Have you talked to your child about strangers yet? Does your child know what to do if a stranger comes to pick them up for school? Honestly, before I did the research for this article, my own son was throwing the door open to every person that walked by. The day that I came in from five minutes in the laundry room to find an unannounced plumber in the living room talking to my son was the reality check for me. All I knew was the baby basics: no chemicals within reach, watch out for pets, look both ways, etc. Well, let me tell you that after a full day on the internet and about a dozen extra printouts to "read later," I was shocked at how little I really knew. Here was my biggest shocker from The National Center for Missing & Exploited Children:
"The National Center for Missing & Exploited Children does not ascribe to the 'stranger-danger' message. We have learned that children do not have the same understanding of who a stranger is as an adult might; therefore, it is a difficult concept for the child to grasp. It is much more beneficial to children to help them build the confidence and self-esteem they need to stay as safe as possible in any potentially dangerous situation they encounter rather than teaching them to be 'on the look out' for a particular type of person. The 'stranger-danger' message is not effective and, based on what we know about those who harm children; danger to children is far greater from someone they or their family knows than from a 'stranger.'"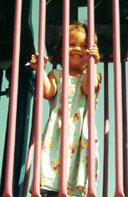 I know, it's scary to think that no matter what we do something can happen anyway…but let's face it, you can't keep your child in a bubble until they're ready to marry! Who would want to? Children need space and independence in order to grow. Educate yourself and your children and you'll all have the confidence to embrace more freedom and less fear.
What Your Kids NEED to Know NOW!
1. "Mommy!?" What to do in case you get separated in a public.
• Establish where you'll meet if you get separated. Say: "if you can't find me today in the mall, come sit by the fountain and wait for me. Do not leave the mall for ANY reason, because I would never leave you here!"
• Give them money for a pay phone and tell them to call your cell phone or they can leave a message on your home machine and you can check it.
• Teach your child that if they feel they need to that they should look for a mom or a woman with kids – not a store employee or a security guard. (Statistically speaking, women are less likely to be a predator than men, and women with kids are more likely than the average man to stick with your child until the problem is solved. Make sure they understand what a mom looks like!)
• Don't teach your kids to look for a police officer or a security guard because kids can't usually tell the difference between a real cop and mall security. Remember: Security guards aren't always screened properly and may not be safe people. Even John Wayne Gasey, a serial killer, was a security guard at one point.
2."Do you know your mommy's phone number?" Be sure your child knows how to call you.
• Teach children their names, address, phone number including area code, and who to call in case of an emergency. Also, review 911.
• Put important phone numbers right next to the phone and teach your older children who to call if they're home alone and need to talk to an adult.
• Also be sure that your children know the homes of friends close by where they can go if there is a problem.
• For your younger kids who can't use the phone, you can sew important information into their jacket, or backpack (make sure that they know where this is). You could also print out a card that they can put in their pocket when you take them to large public places. My son now refuses to wear shorts without pockets so that he can carry all his "important" stuff.
3."Have you seen my son?!?" Be sure your child knows to tell you before they go anywhere.
• Tell your child to always ask for permission before you leave the yard, park, designated play area, or go to someone's house.
• Be sure your kids know that they can't ride in a car without your permission. Talk about whose car they can ride in. Teach them to move away from any car that pulls up beside them and is driven by a stranger.
4."Is your Mom home?" Never open the door for a stranger!
• Be sure that your child knows how to look out the window or peephole to see who's there before opening the door, without being seen. If your child doesn't know the person at the door, then tell them to ignore them and let them knock.
• I also encourage parents to have their children screen all phone calls with an answering machine they can hear, not voice mail, or with a caller id, and to not answer if they don't know the caller. Have something that you want your child to say to callers when you aren't home.
5."Your mom asked me to pick you up today." Using a password.
• Come up with a silly password that only you and your kids know. If someone tries to pick them up but doesn't know the password, then the child should not go with them!
• Also, remind your kids that just because someone knows their name doesn't mean that they should trust them. Some abductors listen to parent's talk to their children and pick up their name in the conversation to use later.
Top 5 Long-Term Goals
1. Self-Confidence is the key: Statistics show that the unsure child is more likely to be targeted as a victim than the self-assured one.
• Cut back on the stranger scares and focus more on building your child's self confidence and teaching them how to be assertive in all types of situations.
• Teach them to stand up for what they believe in and to not be afraid to stand alone for anything they feel in their heart is right.
• Listen to your children and don't talk down to them. Let them speak their mind without interruption. Ask them what they feel or think about topics and family decisions as much as possible. This will show them that you respect and value their opinion.
• Spend time together one-on-one. This will show them that you value their relationship and company.
2."Can you help me find my lost puppy?" Empower them with the knowledge of how, why, and where predators strike.
• Explain to your kids how kidnappers may try to persuade them into bad situations. What do you do when someone asks you "Can you help me find my lost puppy?" or "Would you like some candy?"
• Talk and role-play so that your kids will be "too smart" for strangers.
• Talk about what to do if a stranger approaches them to talk or is asking for help.
• Let them know it's okay to walk away from an adult they don't know that approaches them. They don't need to feel like they're being rude or disrespectful. They are just being safe.
3. Teach them to Fight Back if someone they don't know tries to pick them up or take them away from a public place or put them in a car.
• Emphasis that it's okay and actually necessary that they fight against someone who is trying to take them or even trying to do something that makes them feel uncomfortable. They can do whatever it takes to get away: Bite, scratch, scream, hit, kick, or basically just "freak out!"
• If they're being taken from a public place, tell them to not panic and yell out immediately – "This is not my Mommy/Daddy! I don't know this person! They are taking me away from my mommy/daddy! Help Me!!" Something along those lines, so that bystanders don't mistake them for a child simply being disciplined by a parent.
• Role play these scenarios. Take turns being the bad guy and have fun with it!
4. Show them what personal space is and let them know that it's ok to say "NO" to adults in certain situations.
• Teach them about personal space and what types of actions between children and adults are appropriate and inappropriate; even actions between themselves and other children are important to define.
• They need to feel that adults deserve respect, but they are not an authority to be followed no matter what. Teach them that it's okay to say "NO" to any adult in certain situations.
• As for you, remember to stay alert at all times. 90% of child molesters are trusted adults or older children with direct access to your kids and most often the molestation occurs in the home. So watch, pay attention, don't leave them alone, and ALWAYS listen to your kids.
5. "Mom I have to tell you something . . ." Help them to trust you as someone they can tell ANYTHING to.
• Keep your relationship with your kids strong and active. Help them to understand that we're all human and that means we make mistakes. Tell them some embarrassing stories from your past or even some of the "stuff" that has happened to you as a child that you had no control over.
• Show them the pros and cons to telling you about problems they're having.
• Don't get angry at your kids for the things they do tell you…even when you want to. Remember that mostly it won't matter in a month or a year and that it's more important for them to trust you with the big stuff than hide things from you out of fear of getting in trouble.
• Kids should be aware that mean people will usually use the same line on them: "Don't tell your mom or dad or I will hurt you/them/your sister etc." Kids need to understand that this isn't true and that they should always come to you when there is a problem. No matter what!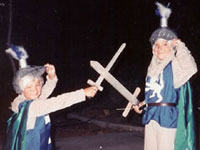 It's never too early to set the ground rules and start teaching the basics. Long-term continuous teaching will help your child feel confident in any field. No matter what you take away from this, please remember to stay upbeat and lighthearted with your children when you're teaching them these invaluable safety rules. They need to be confident when they venture into the world, not afraid that every person knocking at the door or sitting in the park is the next kidnapper! Smile and have fun with your children in this moment and don't dwell on what could happen to them. Instead, arm your kids with the tools they'll need to be strong, confident, and successful people. If you need more help, ideas, or would like some useful tools to help teach your children about safety please visit our Safety Resources.
Happy Homeschooling,
Kristi