Raspberry Roll-Arounds!
A Sweet and Simple Treat that your younger homeschooler can create with little or no help (except with the oven, of course!)
---
Monkey Bread!
Use this great and easy recipe to have some sticky silly fun with your cinnamon rolls!
---
Twistedly Soft Pretzels
Here is a fun and twistedly simple recipe for soft pretzels.
---
Homemade Ice Cream
Have your homeschoolers roll their way to a tasty treat!
---
Homeschooler's Rice Crispies
Here is a fun and simple rice crispy treats recipes.
---
Banana Pancakes for Breakfast!
Teach your kids the importance of good nutrition and some great easy-to-learn skills in the kitchen.
---
Alphabet Biscuits!
Use this fun hands-on activity to help your child master their letters.
---
Snack Time!
Saying no to junk food is a battle we all fight. Here are some healthy and simple Snacking Tips & Recipes that'll help you make it thru the busy days...
---
Japanese Girl's Day Mochi
Whatís gooey, sticky, sweet, and easy to make? Mochi! This Japanese candy has very few ingredients and is a breeze to cook up Ė and when youíre done you have a treat thatís almost as much fun to play with as it is to eat!
---
Homemade Lollipops
Homemade Heart-shaped Lollipops are a yummy, sugary way to send your love.
---
Oatmeal Cookie Jars
Give your favorite cookie receipe out without telling them your secrets...no baking required! It's fun, easy and your friends will love them!

---
Christmas Cookie Trees
Itís the perfect time of year to pull out those cookie cutters and get your hands messy with flour, dough, and all those colorful frostings..

---
Giving Thanks with Fun & Food!
Involving your kids in the planning and preparing of all your fun holiday treats and crafts really helps to put the family feel into Thanksgiving. Have fun with our recipe for Cheesy Breadsticks.
---
Cauldron Bubbles - Halloween Recipes
Halloween's not complete without sugar, candy, and sweets! To help you on your way to a devilishly sweet Halloween day, we've created a great Halloween recipe.
---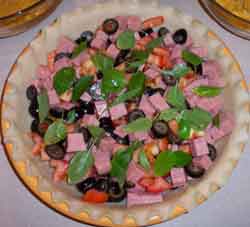 A Quick & Easy Quiche
What's for dinner? How about a Quick Healthy Quiche?

---